Exhibit Title: "Art and Soul"
Watercolors by Karin Sebolka and Sculptures by Francesca Di Lorenzo
Dates: Tuesday, September 3 through Sunday, October 6, 2019
Meet-The-Artists Receptions: Sunday, September 8, 2019 1:00 – 4:00 pm and Sunday, September 15, 2019; 1:00 – 4:00 PM
"Art and Soul" highlights the watercolors of Karin Sebolka and the sculptures of Francesca Di Lorenzo.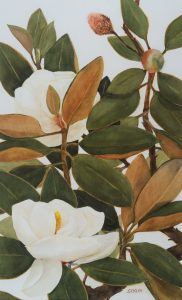 Karin Sebolka – Karin's work has proved to be popular with lovers of nature's beauty.  This exhibit shows a variety of subjects: florals, landscapes and seascapes. Karin painted them being inspired by her magnolia tree, the vineyards throughout  Europe and many cruises along beautiful  breathtaking shores.
Francesca Di Lorenzo – Francesca's "from life" sculptures are created using clay and working with life models. Her traditional sculptural style captures the nuances of the human figure, and celebrates the beauty and differences depicted by her interpretation of the female and male forms.
 To see more of Karin's and Francesca's art, visit The Loft Gallery www.loftgallery.org and the Facebook Page: The Loft Gallery of Occoquan, LLC.