Special Event Title:  "Sharing Experience Through Tea and Art"
Date & Time: Saturday, November 23, 2019—10:00am -12:30 pm.
Where: The Loft Gallery, 313 Mill Street, Occoquan, VA 22125
What:  Chinese Tea Tasting Gong Fu style followed by The Loft Studio Artist Talk/Demonstration:
"Chinese Tea Tasting & Artist Presentation is a rare, unique event held at The Loft Gallery of Occoquan.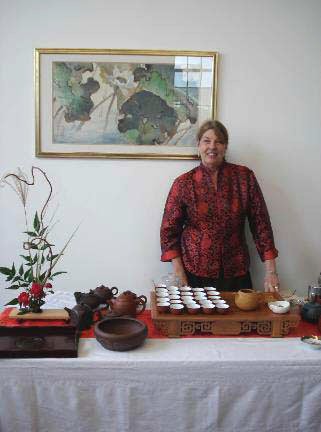 The Chinese ceremonial tea drinking style is meant to focus one's attention and relax the mind and spirit in a convivial, shared experience.  Paying close attention to the evolving taste and aroma of the tea, slowing to observe the dance of its leaves against beautiful Yixing cups enhances one's appreciation of both the tea and the moment.  There is nothing like Gong Fu to create a warm, intimate atmosphere among friends.
Up to 6 Estate teas will be served (loose leaf tea only).  The selections included are White tea, Green tea, Oolong tea, and Pu-erh tea.  The premium tea or Estate teas are from Sir Lanka, China, Tibet, India, Vietnam, Taiwan just to mention a few.
Directly after the tea tasting each person will be guided to the Studio of the artist for a demonstration or talk about their art.  The Loft Gallery Studio Artist consists of nine award winning artist.
To register or for information about this special event email chineseart@darlenekaplan.com