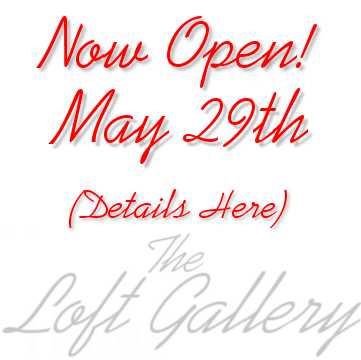 May 2020 – We are having a soft opening on May 29.  Everyone will be required to wear a mask (visitors & artist).  The amount of visitors will be limited to three at a time until phase two as we make adjustments accordingly.
The days that the gallery is going to be open is Thursday-Sunday until further notice.
March 2020 – We miss you, we are thinking of you and we hope that you are safe during these trying times. Even though the Gallery is temporarily closed, the creative spirit is alive within our artists as they continue to create new works of art. We hope that seeing photos of our new art brings joy to you, our patrons and friends.
Please continue to visit our media pages to enjoy more of our art. And check the Gallery status. Spring is a popular time for weddings, graduations and birthdays. You can contact us through our website to inquire about any of our art. Gift certificates are available too.