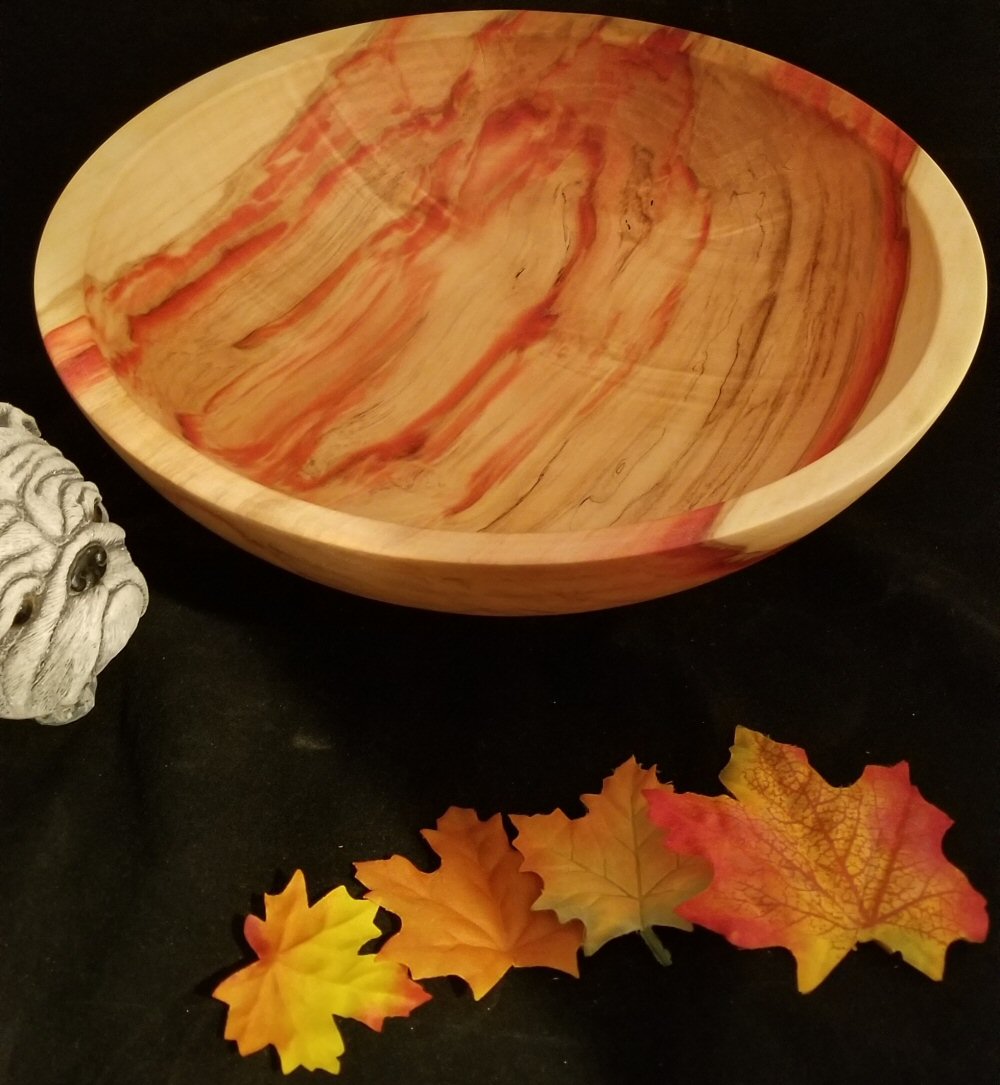 Exhibit Title:  "Into the Woods"
Wood-turned creations by George Jones, III and paintings by Gloria Benedetto-Brazelton
Dates: Tuesday, November 6 through Sunday, December 2, 2018
Meet-The-Artists Reception: Saturday, November 10, 2018, 1:00-4:00 pm
"Into the Woods" Working in collaboration, George Jones, III and Gloria Benedetto-Brazelton have created a journey, "Into the Woods" at The Loft Gallery in November.
Working with unique woods, George skillfully draws out of the raw material, subtlety beautiful works of art and functional items. Sleek designs for bowls and remarkable abstract pieces sit side by side to create a fascinating look at what can be accomplished by the hands of a master.
To compliment those works, Benedetto has interpreted journeys into the woods through a variety of mediums and styles. From a snowy winter sunset to a treetop view, through colorful foliage by a river and with a touch of fantasy, we are reminded of the beauty of the woods in nature and as well as works of art.
George Jones III started woodturning in high school but went silent for many years until reviving his art about 15 years. Since then he has studied with a number of internationally renowned wood artists, and for six consecutive years studied at the Arrowmont School of the Arts in Gatlinburg, TN. Exposure to artists working in other media at the school has allowed George to develop a unique perspective by incorporating some of these techniques in his work. Each of the artist's pieces is unique, from bowls to wall art and tells a story. It is his hope that the love and fulfillment from creating each piece is apparent and brings enjoyment to those who see them. George became a member of the American Association of Wood turners and Capital Area Woodurners in 2002, and is a current board member of the Vietnam Veterans of America, Chapter 227.
Gloria Benedetto-Brazelton is a studio artist in Northern Virginia.  A credentialed teacher, she holds Bachelor's & Master's level degrees from California State University. She continues her art education through several workshops each year, adding to her repertoire of styles and skills.
In addition to teaching art to Special Needs children and adults, she has sponsored artists' workshops, bringing national and international artists to Northern Virginia. She is past president of Springfield Art Guild, has done marketing for a cooperative gallery, and was administrative liaison for Studio 5 Galleries at the Workhouse Arts Center. Currently, she is a member of the Board of Governors at The Arts Club of Washington, a 100 year old art organization, is Exhibition Committee Chair and on the Scholarship, Drama and House Renovation Committees there.
She is a selling artist in The Loft Gallery of Occoquan, voted one of the top 10 best galleries in Virginia.